Develop interest, boost engagement and drive sales through effective content marketing
Content marketing is a necessary element of a robust marketing strategy. Providing your target audience with valuable content sparks and encourages continuous brand loyalty that will transform into sales.
Content Marketing Campaigns
Content marketing is more than copywriting; it's a combination of clever and targeted content generation with innovative campaigns to deliver the content to your users in an indirect way. This could be through your website, in the form of Digital PR, in your social media marketing or your offline marketing communications.
The strategy of your content marketing campaign will be determined based on your business goals and objectives. Our team of digital marketers and content creators will work closely with you to get to know your business, your KPIs, and your aims and develop an effective strategy for successful execution.
Copywriting
Our expert in-house copywriters create relevant and compelling content to engage with your target audience and encourage interaction. Well researched and carefully written, effective content is key to successful marketing campaigns, websites and promotional materials and can help with your SEO efforts.
Communicating with your target audience regularly is an essential part of your marketing mix. Having a team of experienced writers that understand your industry, target audience, and the message you wish to convey can make the difference between a mediocre blog post and one that captivates, engages, and motivates your readers to action.
Writing for online
To generate leads and enquiries, the digital content on your website needs to be engaging and target driven. The internet is saturated with content, and your target audience should not have to wade through the noise to find what they are looking for. Valuable content will help to distinguish your site from your competitors. Each page needs to have SEO-optimised, rich, targeted content that conveys your company ethos quickly and effectively.
A regularly updated blog filled with quality, relevant and targeted content showcases your company's knowledge, proactive approach, and understanding of client needs. Great content helps to build a strong brand identity whilst also demonstrating your business's capabilities. Your website should serve as an information hub for the solutions you offer, encouraging website users to engage and interact with your content regularly. Providing your audience with relevant and valuable information, including targeted keywords (without keyword stuffing), will also help improve your site's organic ranking on search engines.
Writing for offline
Traditional offline marketing techniques also benefit from expert writers who can create engaging, creative, and grammatically accurate content.
Targeted content that is easy to follow whilst concisely communicating information is key to successful brochures, leaflets and catalogues. As well as writing the content for your leaflets and flyers, we can also design the artwork, ensuring that your printed literature portrays a strong, unified message to your target audience.
Sheffield FC
B2C
Leisure and Fitness
SEO & Digital PR campaign for world-renowned football club, Sheffield FC
Sheffield Kitchen Outlet
B2B
Upgrade and redesign of outdated website for Sheffield Kitchen Outlet and promotional video
William Cook Group
B2B
Refreshing a World Class engineering brand & SEO campaign
Aston & Woods
B2C
Health and Care Sector
Retail
Creating and launching a new brand of high-end opticians into a competitive marketplace
The Expo People
B2B
Engineering and Manufacturing
Google Ads campaign for The Expo People

Latest News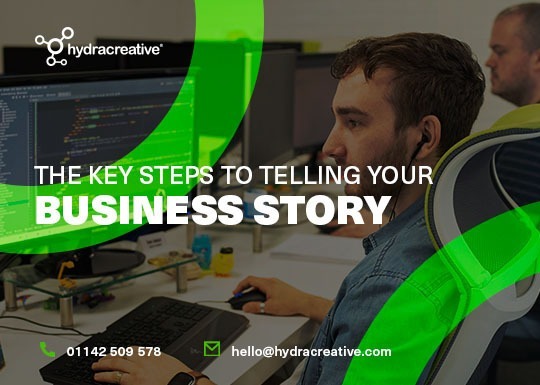 agency news
The key steps to telling your business story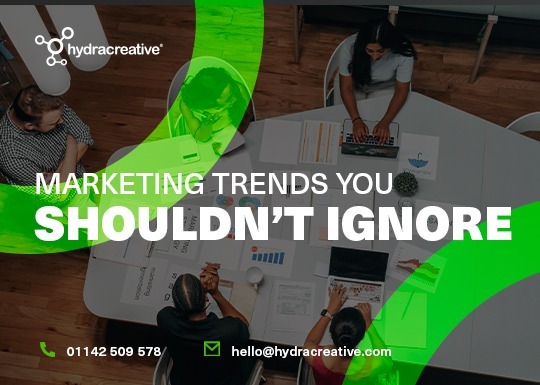 industry insight
Marketing trends you shouldn't ignore in 2023
agency news
Hydra Creative: My Apprenticeship Experience